The house price growth seen over the last 12 months (UK prices are up +6.0% on the year), in the teeth of the pandemic, has largely been due to the imbalance between higher levels of buyer demand and a more limited supply of homes for sale.
The rise in buyer demand was evident from last April, and was boosted further by the stamp duty holiday. Ultra-low mortgage rates have also played a part in making home ownership more affordable for those who have access to a deposit or who have higher levels of equity.
But with many homeowners making a move, why has there been so much pressure on the stock of homes for sale? And when will stock levels start to repair?
This is something we have examined in detail in our latest House Price Index report .
To put the issue in context, the number of homes being listed for sale, or 'new supply', is around 5% down on typical levels, and this has been the case since the start of the year.
Even if the flow of new homes being listed for sale was back up at usual levels, this would not be enough to replenish the total stock of homes for sale, which is down 26% compared to last year.
If we look further back for comparisons, to check against more 'normal' market conditions, total stock is down 25% compared to 2016 and 2017, and 33% below levels seen in the slightly slower markets of 2018 and 2019. All in all – stock levels are running below levels usually seen during quiet Christmas periods.
There are several factors feeding into the lower levels of stock.
The first is the level of activity in the market. Completed sales jumped by 25% in the 12 months to June, compared to the same period in 2019, according to HMRC data. The number of sales has fallen back in July, but even so, it means 1 in 20 homes changed hands over the last year, compared to one in 25 in 2019.
The 'search for space' among buyers put the focus on larger family houses, and this type of stock has become particularly stretched, reflected in price movements: the average price for a house has risen 7.6% over the last 12 months. The supply squeeze for flats is more muted, and price growth for this type of home is up 1.2% on the year.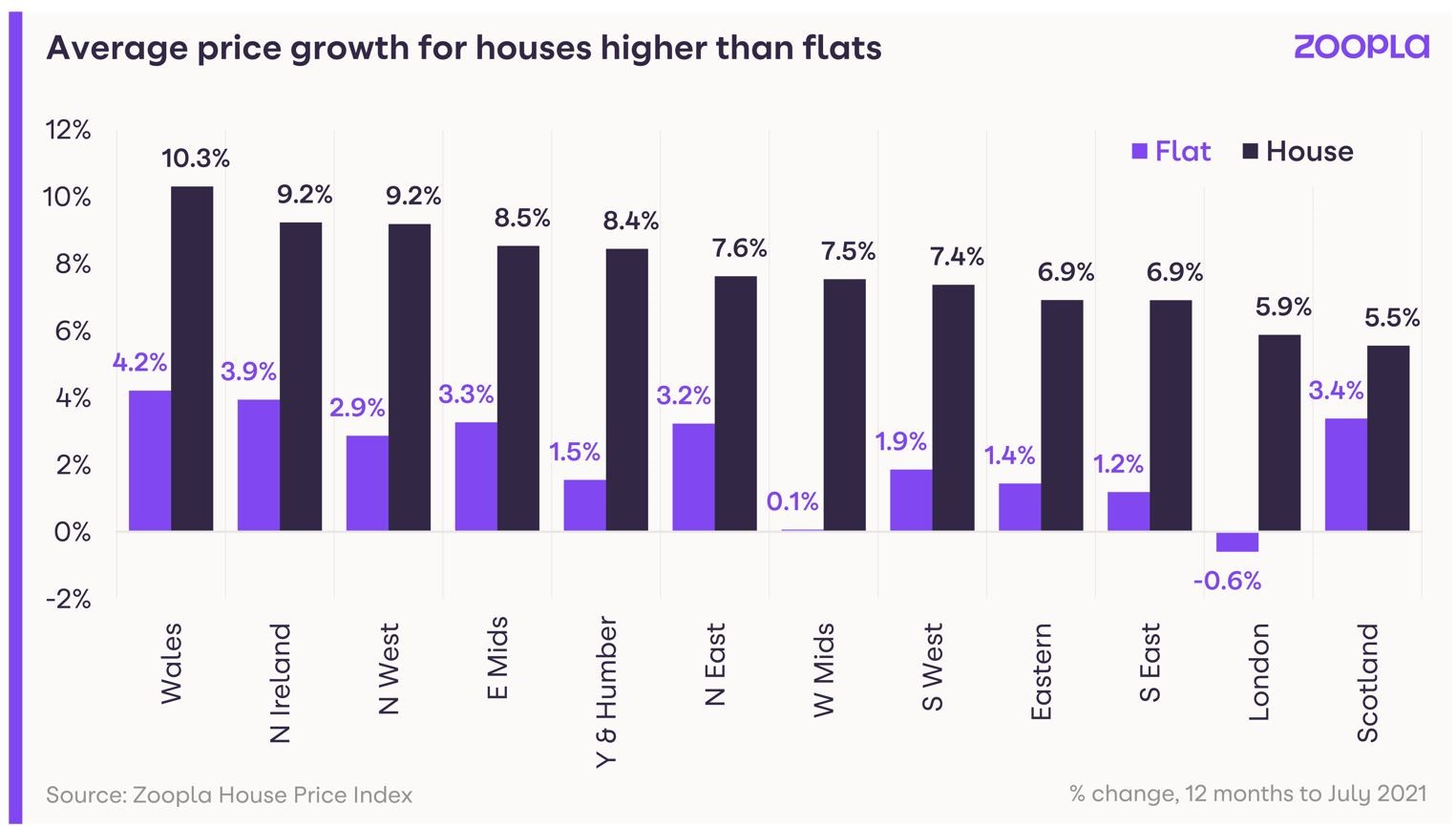 Another reason for the supply squeeze is the increased levels of activity among first-time buyers and investors – buyers that represent net new demand, as the majority have no property to sell.
First-time buyers (FTBs) account for around a third of all buyers, and they have been increasingly active in 2021, with demand up 15% compared to 2020, according to Zoopla data. This increased activity comes as lenders, have reversed tighter criteria imposed during the outbreak of the pandemic during 2020, and supported more FTBs into the market. The activity seen so far this year is likely to be a continued release pent-up demand from 2020, and so levels of activity will begin to return to more normal levels as we move through the rest of 2021.
Investors were also able to take advantage of the lower purchase tax charges as a result of the stamp duty holiday, resulting in a 21% rise in demand among this buyer group compared to 2020. Strong demand for rental properties is likely to be a continued draw for investors, even as tax changes have caused some landlords to review their portfolios. However, the ending of the stamp duty holiday will likely impact investor demand.
Another factor worth consideration is the slowdown in the supply of new homes over the last 12 months, due to the shut-down of the construction industry last year during the first lockdown. New homes completions fell by 11% in England in the year to March. While supply has already started to pick up again, this dip will have had an impact on the total number of homes available to buy. Another factor here is the small, but increasing, number of homes which are going directly to the rental market, without hitting the sales market first.
The post-pandemic 'search for space' has further to run, especially as businesses confirm working practices, with more flexible working in many cases allowing more scope to live further from the office. However, the lack of supply – particularly for family houses, means the market will start to naturally slow during the rest of this year and into next year.
While we forecast a strong start to 2022, in line with seasonal trends, a return to more usual levels of activity among first-time buyers, the ending of the stamp duty holiday, and some potential movers waiting for more stock to become available before making a move, will result in a slow repairing of stock levels through H1.
Gráinne Gilmore is head of research at Zoopla
Keep up to date on all of our latest news!